OUR INNOVATIONS
DRIVEN BY INNOVATION
Albarrie is committed to innovations in needlepunch nonwoven fabrics. We've been committed for 40 years and offer high level customization to many industries.

THROUGH RESEARCH, WE SOLVE INDUTRIAL ENVIRONMENTAL PROBLEMS
Innovation is at the heart of everything we do. Our drive, focus, and willingness to work with clients toward common goals means we're continuously working to develop new ideas. Our research and development team consists of engineers and scientists dedicated to finding solutions to help our customers find easy solutions to challenging industrial problems. As a result, customers use Albarrie's nonwoven technical fabrics to protect the environment and create industrial efficiencies all around the world. We uncover new ways to create products that contribute to a cleaner, safer world.
OUR INNOVATIONS
SMART FABRIC TECHNOLOGY
Smart fabric technology has revolutionalized today's textile industry. Product developers and manufacturers increase a fabric's functionality and improve performance by integrating polymers that chemically react to another substance or by incorporating electronics in the fabric's design.
Albarrie developed its patented mineral oil-reactive self-sealing smart fabric technology, known as Oilmat and SAM, with a unique proprietary blend of dense oil-immobilizing polymers between two nonwoven technical fabric layers. The smart fabric seals on contact with oil, trapping it inside the material, and preventing oil from spilling into the environment. Our self-sealing smart fabric has transformed how companies design and utilize secondary containment systems in the power industry. Utility companies are required by government regulations to have a reliable, environmentally friendly oil spill containment solution, around oil-filled equipment and transformer substations.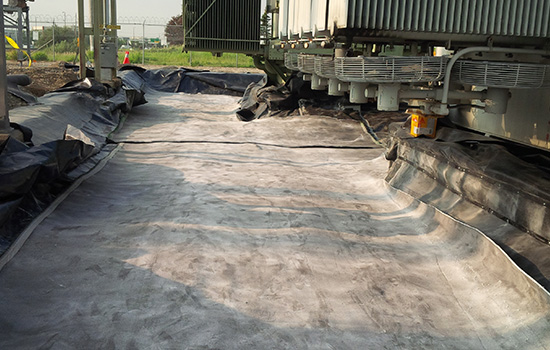 SORBWEB™ SECONDARY OIL CONTAINMENT
SorbWeb™ Plus is a double patented multi-layer passive secondary oil containment system. At the heart of the system is Albarrie's smart fabric technology, Oilmat and SAM. Under normal conditions, the system and its layers are designed to allow water to pass through the oilmat without accumulating. When oil comes into contact with the oilmat, the mat congeals and seals, preventing oil from escaping the containment area.
SorbWeb™ Plus significantly reduces the environmental and economic liabilities
associated with an oil spill. Our proprietary polymer blends are non-toxic, non-hazardous, and environmentally friendly. The system contributes to sustainability and environmental leadership by protecting our water, land, and wildlife from potential oil contamination or exposure.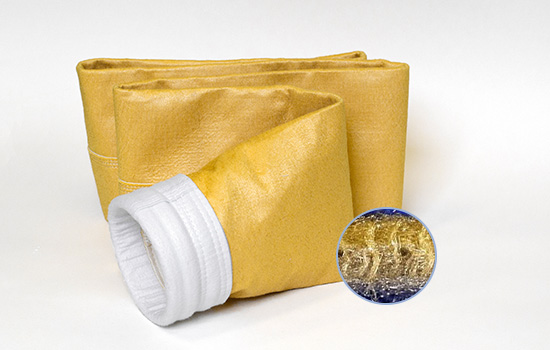 TANDEM™ BAGHOUSE FILTER BAG
Albarrie developed a multilayered industrial air filtration fabric that combines a top layer of the P-84™ Polyimide fiber with a bottom layer of conventional filtration fiber. Albarrie's Tandem™ is sold as a fabricated custom baghouse filter bag. The material retains the filtration properties of 100% P-84™ polyimide fabric; however, when combined with less expensive polymers, it offers exceptional filtration capabilities at a significantly lower price.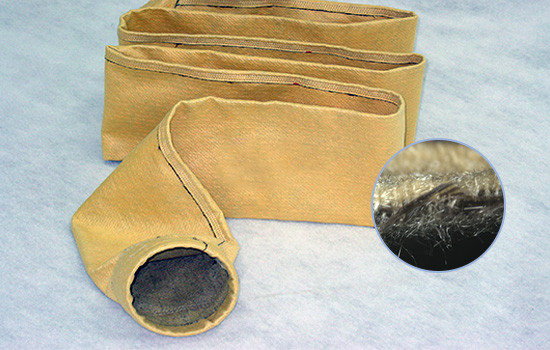 METEOR™ BAGHOUSE FILTER BAG
Meteor™ Basalt filtration media is derived from volcanic rock, offering an incredible operating temperature range, chemical resistance, and exceptional mechanical properties. Meteor™ is an industrial air filtration fabric made of a highly stable scrim with Basalt fibers. The Basalt scrim is combined, via a needlepunching process, with a top layer of suitable fiber, resulting in a spark- and chemical-resistance baghouse filter bag with high operating temperature ranges and superior mechanical properties. Albarrie sells Meteor™ as a fabricated custom baghouse filter bag