OUR SERVICES
Engineering & Design for Transformer Secondary Oil Containment
Albarrie's transformer secondary containment systems include a trusted professional engineering and design team for successful installation.
SUCCESSFUL CONTAINMENT PERFORMANCE FROM DESIGN TO INSTALLATION AND BEYOND
Albarrie understands transformer substation projects are complicated. Utility companies and project engineers want to get the job done, but they often
get derailed in the design and installation phases. It takes a large team of professionals to get the job done right, from procuring the equipment to building on-site. Regulatory requirements for secondary oil containments around substation transformers, also adds difficulty and complications.
With thousands of containment design projects completed and performing in the field, our engineers follow specific transformer oil containment design standards that fulfill regulations that government and insurance companies enact. Along with best practice recommendations and client input, we focus on developing the right solution for your application. Our professional engineering team assures successful containment installations, addressing any issues revealed along the way. As a result, we promise to deliver the highest quality product that's customized to your requirements.
But fulfilling regulation isn't our only concern. Albarrie engineers work closely with our internal research & development team to deliver innovative, cost-effective containment solutions to the marketplace. We continue searching for new technology to integrate into our processes and product lines to create low-maintenance containment innovations that save people precious time, resources, and money.
EXTEND ENGINEERING CAPABILITIES
We work with your in-house engineering department to develop a complete solution.
NO OBLIGATION ESTIMATE
Get a free preliminary design package and estimate to compare solutions in the market.
WIN MORE BIDS
The design package includes a complete list of materials to help you win projects and prepare budgets.
SUCCESSFUL PROJECT COMPLETION
A professional engineering team designs the containment and guides the installation.
SERVICE DETAILS
CONFIDENCE COMES WITH CERTIFIED PROFESSIONAL DESIGN & SUPPORT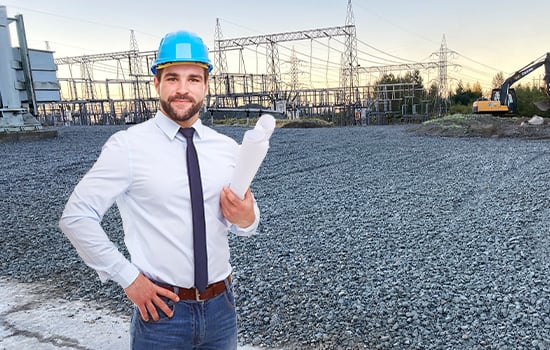 Albarrie's engineering team includes professional engineers, technologists, and technicians with diverse talents to provide state-of-the-art transformer oil containment designs for SorbWeb™ Plus, secondary oil spill solutions, and related products.
PROFESSIONAL CERTIFICATIONS
Albarrie has a Certificate of Authorization/Permit to Practice Engineering from the Professional Engineers of Ontario (PEO), The Association of Professional Engineers and Geoscientists of Alberta (APEGA), The Association of Professional Engineers and Geoscientists of Saskatchewan (APEGS), Engineers Geoscientists Manitoba (EGM) and Engineers and Geoscientists British Columbia (EGBC).
DESIGN PACKAGES
Albarrie's secondary oil containment design packages include stamped final designs, detailed final reports, and as-built drawings. We design secondary containment solutions to be passive and maintenance-free, allowing drivable access to the equipment.
Typical Design Guidelines and Input Data Needed
Standard 110% Containment plus a 1-in-25-year return, 24 hours after a rainfall event
IEEE Guidelines for Secondary Oil Containment
SPCC Rules/MOE Requirements
Best Engineering Practices
Site Considerations
Client Specifications
Site Plan Drawing
Transformer Foundation Design
Volume Of Oil
Soil Permeability (A Geotechnical Report Is Best)
Depth Of Grounding Grid
Geographic Location
Deluge System if any
Number Of Intrusions in The Containment Area
Pieces Of Oil-Filled Equipment Needed
Equipment Layout
Grading Plan
SERVICE PACKAGES
Clients can choose from three types of service: Design only, Supply and Support, or Turnkey.
Albarrie's design only package provides engineering firms with a set of stamped IFC drawings for the oil containment system, complete with the top view and cross sections,Albarrie also provides a complete civil materials take off list. These details and specifications can then be included as part of the engineering firm's bid packages when going out to tender the project.
Albarrie's supply and support package includes the containment drawings, an Albarrie engineering technician to guide installation, membranes and materials, and a full list of civil materials required to complete installation. You purchase the civil materials, then select and hire your preferred civil contractor to complete the installation. An Albarrie engineering technician will be on-site to guide the contracting team and support any issues during installation, ensuring the project is successful.
Albarrie's turnkey service package includes everything in the supply and support package plus an Albarrie-selected civil contracting service and all civil materials required for complete installation.
OUR PROFESSIONAL AFFILIATIONS