OUR SERVICES
BAGHOUSE MAINTENANCE, TROUBLESHOOTING, & CLEANING
Albarrie baghouse and dust collector high-efficiency cleaning services, maintenance & troubleshooting keeps baghouses in top condition and extends bag service life.
FOCUS ON PRODUCTION. WE'LL DO THE WORK.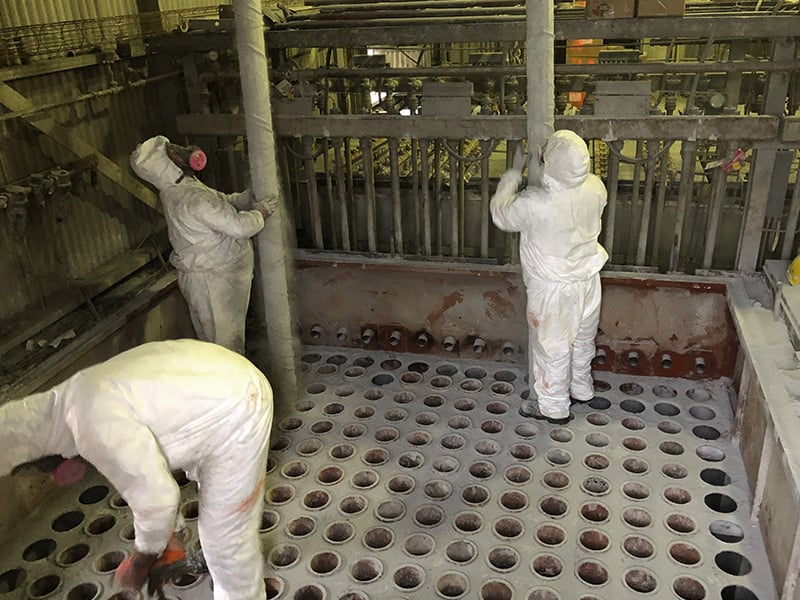 We understand there's mounting legislative pressure to keep emissions low, but internal demands to keep production high and profits rolling in. It's challenging to balance labor, maintenance, and operational costs. Your labor force needs to focus on getting the product to your customers, not spending countless hours troubleshooting dust collectors or cleaning dirty filter bags.
Keep your production, profitability, and compliance from going up in smoke. As industrial air filtration experts, Albarrie ensures baghouse operations contribute to profits. It's what we've done for 40+ years. You can't afford extensive downtime or hefty fines for emissions, nor should you have to worry about it. So, make it easy. Hire the experts.
Albarrie's dedicated baghouse maintenance team identifies overlooked details that affect performance. Our technicians bring a wealth of knowledge and expertise to you whenever we inspect, troubleshoot, or clean your dust collector system. Our rapid response team can usually be on site in Canada and the United States within 24 hours to react immediately to your dust collector or baghouse problem.
MAXIMIZE PRODUCTION
Keep production, profitability, and compliance from going up in smoke.
SAVE MONEY
Use less power when air flows freely through your system.
ON-SITE IN 24 HOURS
Our rapid response team reacts quickly to repair your system.
FREE BAG TEST
Receive a detailed analysis and show how to save on regular maintenance costs.
SERVICE DETAILS
FIX BAGHOUSE ISSUES FOR TROUBLE-FREE OPERATIONS
HIGH-EFFICIENCY CLEANING (HEC) SERVICE
Experiencing high differential pressures in your baghouse typically indicates the filter bags need cleaning. Using a powerful and precise cleaning device with pressurized air impulse, Albarrie's HEC service team cleans your filter bags onsite, on time, and on budget with minimal impact on daily operations.
Albarrie's pressurized air impulse system is much stronger than built-in pulse jet systems. Our process removes the right amount of dust cake with a single blast to increase airflow, improve air quality, and reduce emissions. We clean filter bags in place during regular operations (if preferred) so you and your team can focus on production work and making profits.
FREE BAG TEST

Aside from testing your existing bags, Albarrie also makes recommendations on the right kind of filter media/fiber to use, depending on your operations and byproduct of your burns. We'll test filter bags to ensure you get the results you need to improve efficiency, production output and environmental compliance. Our experts will provide a detailed analysis and show you how to save on maintenance costs.
FILTER BAG & CAGE CHANGES
Changing filter bags sounds like an easy job, but there's a trick to ensuring they are correctly installed. When filter bags and cages are ill-fitted or improperly installed, problems can quickly appear in dust collector operations, leaving the crew wondering why the new filter bags are already failing. Albarrie's technicians replace filter bags and cages daily. This means we have a keen eye for details often overlooked by a plant's maintenance crew or other less experienced companies.
LEAK DETECTION SERVICES
When emissions rise, leak detection is the best way to identify failing bags or compartments in a baghouse. Leak detection should be part of a regular preventative maintenance routine. However, not everyone has the staff or experience. Albarrie's highly experienced and skillful technicians conduct leak testing on filter bags while they stay in place, minimizing the need for time-consuming hand/eye inspections.
BAGHOUSE INSPECTIONS
Albarrie provides a comprehensive system and component inspection from hood to stack, confirming the baghouse is optimized and meets compliance standards. We perform a detailed exam of valves, blowpipes, tube sheets, filter bags, inlet and outlet ducts, gauges & lines, pulse pressure & frequency, evacuation & dust return systems, as well as rotary airlocks.
BAGHOUSE TROUBLESHOOTING
When there's trouble with your dust collector system, our rapid response team can usually be onsite within 24 hours, reacting quickly and providing the repairs necessary to get your dust collector up and running. We're experts at identifying overlooked details that affect dust collection systems and their performance.
PREVENTATIVE MAINTENANCE
Many companies try to get away with minimal preventative maintenance routines, but this routine is key to staying operational. Our technicians perform preventive maintenance on all components to keep your dust collection system operating at its best. They recommend a suitable schedule to keep your equipment from breaking down, keeping efficient performance, reduced failure, and longer bag life in mind.
Looking For Expert Advise?