New Hampshire Manufacturer Chooses Albarrie's Meteor™ Filter Bags for High-Temperature Dust Collector Applications
When a major gypsum manufacturer in New Hampshire needed to change their dust collector bags ahead of their regular schedule, they decided it was time for an upgrade. Consulting with their sister company, which had been using Albarrie's exclusive Meteor™ baghouse filters with great success over several years, the team decided to give the Meteor™ filters a try. After approaching Albarrie for a trial, they revealed they were shut down due to filter bag blowouts. In response, Albarrie quickly provided a solution and accommodated the speedy production of 100 custom bags to get them back up and running, moving production around to accommodate their needs.
Upon receiving the baghouse dust collector bags, the maintenance team was impressed with their higher quality compared to bags from other popular suppliers. The installation was also easier, as the bags easily slid onto cages without causing strain on the employees' backs. According to the Maintenance Manager, the previous dust collector bags were so stiff the crew strained their backs trying to install them.
The company soon discovered why Albarrie's Meteor™ bags worked so well for their sister company. Meteor™ baghouse filter bags feature a woven basalt reinforcement layer, protecting the bag's life in highly abrasive environments due to the chemical composition of raw materials and off-gassing. The Basalt scrim also eliminates sparks or hot embers from the baghouse, further protecting processes where combustion can be problematic.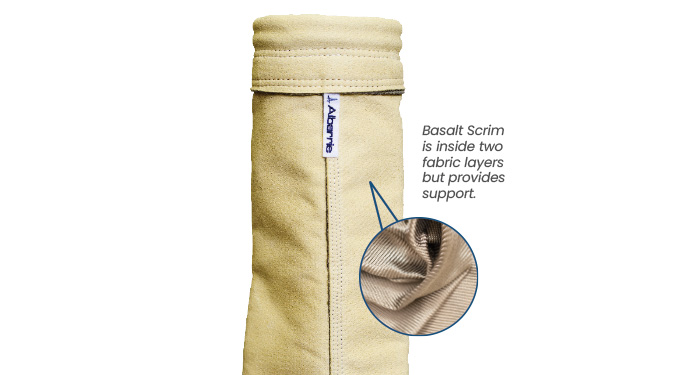 Upgrade Your Baghouse with Albarrie's Meteor Filter Bags
Albarrie's Meteor™ spark‐resistant baghouse filter bags are highly robust and feature a woven basalt reinforcement layer designed to eliminate sparks that cause holes and fires in filter bags.
Albarrie's Meteor™ filter bags provide gypsum manufacturers with longer-term solutions for their high-temperature baghouses. Approximately 700 Meteor™ filter bags will be used for rock drying, stucco, and calcinating processes for the New Hampshire manufacturer. With an expected life span of at least six months, this upgrade is estimated to save the company thousands of dollars in downtime while ensuring their filter bags can easily handle high temperatures and abrasive environments.
The purchasing agent said, "Cheaper isn't always better – time is money." However, with Albarrie's Meteor™ filter bags, they now have the assurance that their downtime counts, and they can keep costs low while maximizing efficiency.
Talk to A Filtration Expert